Latte
Time Traveling Baby Orphans
Gender
Male
Eye color
Black
Eliminated
TBA
Place
TBA
Friends
Chalky
Enemies
Smartie
Voiced by
WebzForevz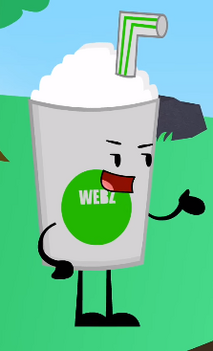 Latte, labeled The Hipster, is, well, ironically, a hipster as his label suggests. He hates things that are "mainstream" or "too mainstream" and makes sure to only eat at Bar Stucks, the nearest hipster residence to his hometown. He only likes watching PowerPoint shows while he HATES mainstream shows [Popular shows].  
Friends : Clay Broomer Chalky 
Age : 22
Episode 1 - He is found in Bar Stucks by Chocolate Bar on the computer, writing a screen play so everyone can see him do it. Then, he is seen saying the challenge is mainstream and then sees Smartie go down the mainstream. Then, he is seen talking to Headset about being mainstream to not fall in the hole, which he does anyway. At the end after the credits, he is in Calmart and goes to the one dollar bin where all the bad movies are, then sets it on fire when finding EE Season 1 which was the worst one of all. He talks about going to Bay Jewelers, then talks about Chalky being his best friend.
He is based off of hipsters, being the second contestant to be loosley based off of a set of people

Feather is also based off of a set of people, but white girls instead of hipsters though both type of people enjoy Star Bucks, the thing Bar Stucks is based off of.

He was the first body made out of the new cast.
He is the only contestant to have a Fanfiction.net account.
He claims that he is 22 years old and loves a girl named Barbara.
there is another contestant named Latte in Object Madness,However OM latte is Female and is a Mug of Latte,while EEE Latte is a Male and is a cup of Latte
he was in bottom 2/3 many times when he was up for elimination,this is most likely beacuse he is judgged by his personality